Kroy K4350 Thermal Tranfer Printer for Labels and Bulk Heat Shrink Tubing Wire Markers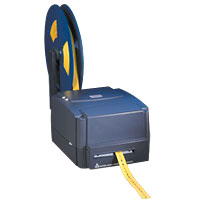 ***Specifications Below***


Part No.
Printer Unit
Pricing
K4350CPTR

K4350 Printer - with universal power supply, serial cable, standard external supply holder (Max OD 8"), automatic cutter, software and print drivers.
(Includes USB Parallel Cable)

$599.00

Part No.
Shrink Tubing Supply
Pricing
3FLS125WEC
.125" (3.2mm) White Shrink Tubing, 3:1 Shrink Ratio, 100' Per Spool.

$99.90

3FLS125YWC
.125" (3.2mm) Yellow Shrink Tubing, 3:1 Shrink Ratio, 100' Per Spool.

$99.90

3FLS125BKC
.125" (3.2mm) Black Shrink Tubing, 3:1 Shrink Ratio, 100' Per Spool.

$109.50

3FLS188WEC
.188" (4.8mm) White Shrink Tubing, 3:1 Shrink Ratio, 100' Per Spool.

$109.50

3FLS188YWC
.188" (4.8mm) Yellow Shrink Tubing, 3:1 Shrink Ratio, 100' Per Spool.

$109.50

3FLS188BKC
.188" (4.8mm) Black Shrink Tubing, 3:1 Shrink Ratio, 100' Per Spool.

$119.50

3FLS250WEC
.250" (6.4mm) White Shrink Tubing, 3:1 Shrink Ratio, 100' Per Spool.

$117.50

3FLS250YWC
.250" (6.4mm) Yellow Shrink Tubing, 3:1 Shrink Ratio, 100' Per Spool.

$117.50

3FLS250BKC
.250" (6.4mm) Black Shrink Tubing, 3:1 Shrink Ratio, 100' Per Spool.

$129.50

3FLS375WEC
.375" (9.5mm) White Shrink Tubing, 3:1 Shrink Ratio, 100' Per Spool.

$139.50

3FLS375YWC
.375" (9.5mm) Yellow Shrink Tubing, 3:1 Shrink Ratio, 100' Per Spool.

$139.50

3FLS375BKC
.375" (9.5mm) Black Shrink Tubing, 3:1 Shrink Ratio, 100' Per Spool.

$149.50

3FLS500WEC
.500" (12.7mm) White Shrink Tubing, 3:1 Shrink Ratio, 100' Per Spool.

$158.30

3FLS500YWC
.500" (12.7mm) Yellow Shrink Tubing, 3:1 Shrink Ratio, 100' Per Spool.

$158.30

3FLS500BKC
.500" (12.7mm) Black Shrink Tubing, 3:1 Shrink Ratio, 100' Per Spool.

$179.50

3FLS750WEC
.750" (19.1mm) White Shrink Tubing, 3:1 Shrink Ratio, 100' Per Spool.

$211.10

3FLS750YWC
.750" (19.1mm) Yellow Shrink Tubing, 3:1 Shrink Ratio, 100' Per Spool.

$211.10

3FLS750BKC
.750" (19.1mm) Black Shrink Tubing, 3:1 Shrink Ratio, 100' Per Spool.

$239.50

3FLS1000WEC
1.00" (25mm) White Shrink Tubing, 3:1 Shrink Ratio, 100' Per Spool.

$279.90

3FLS1000YWC
1.00" (25mm) Yellow Shrink Tubing, 3:1 Shrink Ratio, 100' Per Spool.

$279.90

3FLS1000BKC
1.00" (25mm) Black Shrink Tubing, 3:1 Shrink Ratio, 100' Per Spool.

$317.50

Part No.
Ribbon Supply
Pricing
92-BLK-PR243U
Black Ribbon Supply, 2.43" wide x 984' long

$34.50

FRD060S4
White Ribbon Supply, 2.36" wide x 984' long

$42.00

Part No.
Accessories
Pricing
2559300
Shrink Tubing Holder

$97.00
K4350 Features:
High-resolution thermal-transfer and/or direct-thermal printing at 300dpi.

Practical Printer for cost effective printing.

1MB Flash, 2MB DRAM

Rotary cutter included on K4350C.

Real time clock, Black Mark Sensor

Easy to load.
K4350 Media Specifications:
Prints continuous-feed labels up to 38" (989mm) in length and up to 4.09" (104mm) in width.

Prints on labels, shrink tubing, wire wraps, facility signs, health and safety signs and banners.
K4350 Printing Specifications:
Prints up to 2" per second at 300 dpi (12 dots/mm).

Powerful label design software package including barcodes
K4350 Font, Bar-Code and Graphic Specifications:
Fonts: Windows-based true-type fonts plus
5 Alphanumeric fonts.

Bar-code include: Code 39, Code 93, Code 128UCC, Code 128, subsets A, B, C, Codabar, Interleave 2 of 5, EAN 8, EAN 13, EAN 128, UPC-A, UPC-E, EAN and UPC 2 digit add on.

2 Dimensional Barcodes including: PDF-417, Maxicode, Datamax.
K4350 Electrical Specifications:
Interface: RS232 Serial and Centronics parallel.

AC Power Adapter: 110/220 VAC +/- 10% single phase 60/50 Hz .Meets UL, CSA, & TUV-GS standards and FCC Class A & CE standards.
K4350 Physical Specifications:
Printer depth: 8.9" (226 mm)

Printer height: 5.32 (135 mm)

Printer weight: 4 Lbs. (1.81kg)

Printer width: 7.9" (200 mm)
K4350 Environmental Specifications:
Operating temperature: 40º F to 104º F (5º C to 40º C).

Storage temperature: 14º F to 140º F (-10º C to 60º C).

Humidity 10% to 90% non-condensing.

Ventilation: free air.
K4350 Limited Warranty: