PVC MityMark® Compact Disk Wire Markers
The MityMark™ compact Disk marker System features 500 PVC sleeve wire markers packaged on a convenient reel for ease of use. Each sleeve marker is 3mm in length with a single black stamped character on each marker. Each marker is chevron cut to assure proper positioning as multiple markers are applied. Standard marker color is white, with yellow available upon request. The MityMark Compact Disk Markers are available in two sizes to accommodate 16-10 wire gauge (.098 -.196 in.) and 22-16 (.051 - .118 in).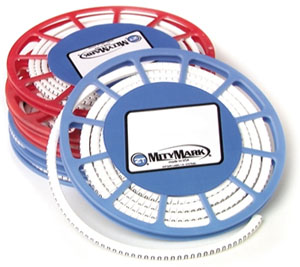 Features

- Ideal for Applications in Electrical, pneumatic, and hydraulic
- Designed on a convenient reel for easy and quick method of - marking
- Unique chevron cut design assures proper marker alignment
- Suitable for cables 16-10 (.098 -.196 in.) and 22-16 (.051 - .118 in)
- Available in single character 500 markers per disk, white or yellow
- RoHS, CSA & UL recognized

Part Number MMD-1 applies to the 16-10 Wire Marker
Part Number MMD-2 applies to the 22-16 Wire Marker

Standard legends available include: 0 - 9, A - Z, +, -, /, ground
When ordering use the appropriate part number with the legend as a suffix.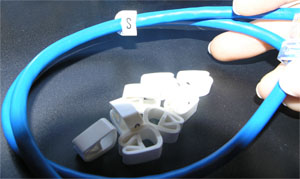 Example

MMD-1 9 = a reel of 500 markers for 16-10 wire with the number 9 as a legend
MMD-2 9 = a reel of 500 markers for 22-16 wire with the number 9 as a legend

Please call for more information