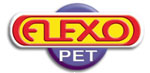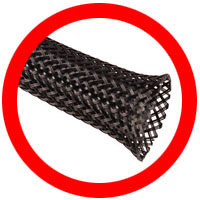 A Versatile Bundling & Protection Solution

The FLEXO PET (PT) grade is used in electronics, automotive, marine and industrial wire harnessing applications where cost efficiency and durability are critical.

The unique braided construction and wide expandability allows quick and easy installation over large connectors and long runs.

PT can be found in applications ranging from small office/home office to high tech wire and cable harnesses. The wide range of available colors and sizes allows easy and systematic color coding in complex wiring and cabling schemes.

PT is braided from 10 mil polyethylene terepthalate (PET) monofilament yarns. The material has a wide operating temperature range, is resistant to chemical degradation, UV radiation, and abrasion.

The sleeving cuts easily and cleanly with a hot knife and once installed, will beautify and protect any wire, hose or cable application.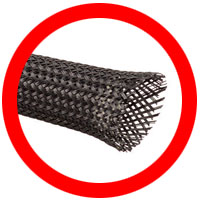 Clean Cut - Scissor Cut For Easy, Fray Resistant Installation in Shop or Field

By adjusting the physical characteristics of the polyethylene terepthalate filaments,
the engineers at Techflex have produced a product with the same specifications
of our PT with the unique advantage of being able to cut the material with
ordinary scissors and still maintain an extraordinarily fray-resistant end.

FLEXO CLEAN CUT (CC) is ideal for field installers and other situations where
access to a hot knife is impossible. CC's fray-resistant properties allows frequent
expansion at the cut end without unraveling. When cut with a hot knife, CC produces
a virtually frayless end.

Sizes larger than 1 1/2" may be available. Contact an Account Representative for additional information.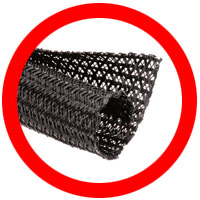 Flexible, Semi-Rigid Wrappable Split Braided Tube

F6's unique split, semi-rigid braided construction makes it the
ideal solution for situations where ease of installation is of primary
importance. The lateral split allows the tube to open up to accommodate a wide
variety of bundling requirements, and the semi-rigid braid configuration simply
closes around the entire installation without the need for any additional fasteners
(velcro, tape, etc.)

The 10 mil PET braid is lightweight, quiet and flexible. The 25% edge overlap (at nominal diameter) allows coverage around inline plugs, connectors and splices.

F6 will bend to a tight radius without distorting or splitting open and, unlike full rigid tubing, will not impair or affect the flexibility of harnesses.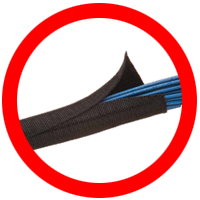 F6 Woven Wrap, Woven Split Tubular Harness Wrap

F6 Woven Wrap has been engineered from the ground up to meet the demanding specifications of today's modern wiring harness industry.

F6-WW utilizes many of the same characteristics as our original F6 split braided sleeving including the easy wrap around design and the extra overlap to insure
complete protection of important electronic communication and power systems.

The new woven construction provides superior elastic flexibility with unbeatable coverage over any harness assembly. Wire harness professionals will also appreciate the increased abrasion resistance F6-WW will provide to their cable assemblies.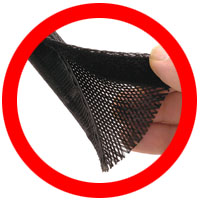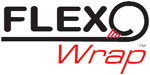 Flexible Control & Management With Easy On, Easy Off Access

FLEXO WRAP (FW) is an exclusive product engineered and manufactured by Techflex. FW provides the perfect solution to a wide variety of unique application
challenges.

The color matched hook and loop closure provides for easy on and off installation, as well as instant and convenient access for harness break-outs and rework of any specific section along the entire length of the run. Combined with the expandable, open weave design, FW will conform to a wide variety of bundle diameters and will wrap around irregular shapes.

All grades of FW cut cleanly with a hot knife.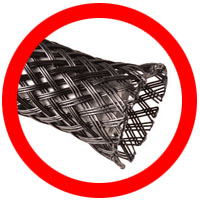 50% Thicker For The Really Abrasive Jobs

When your application calls for more protection than our 10 mil products provide, our 15 mil HW is the ideal solution.

HW is commonly used in industrial and marine applications where extreme abrasion protection is critical. The durability of HW makes it ideal for protecting hoses and cables that have to withstand constant contact with rough and abrasive surfaces.

HW is the perfect solution for use on chains and cables to protect painted or laminated surfaces from scuffing and wear.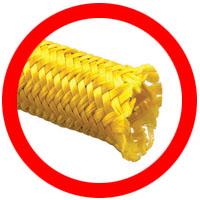 Stronger Than Steel, Soft & Pliable

KEVLAR® (KV) is a soft, flexible sleeving that's perfect for bundling and protecting vulnerable components from the most extreme environmental conditions. KV is braided from aramid fibers and has all of Kevlar's well-known characteristics of durability, pliability and extraordinary tensile strength. Kevlar fibers are up to 20 times stronger than steel fibers of equal diameter.

KV has excellent thermal stability, permitting long-term, continuous use at temperatures as low as -340F and as high as 320F. Short term exposure up to 572F can be tolerated. KV does not melt or support combustion. KV sleeving provides extreme strength and durability, yet is lightweight and easy to install.

Custom colors may be available. Contact an Account Representative for details.






Industrial Hose & Cable Protection For Harsh Environments

The tightly woven Nylon® makes DF the perfect solution for hose & cable protection. The .09 inch wall thickness will protect cables, hoses and ropes from weather, sunlight and abrasion damage.

When installed over uncoated cable or chains, DF will prevent scraping, chafing and contact damage to painted or other fragile surfaces.

DF is resistant to chemicals, UV damage and rot, and is suitable for continuous outdoor use under all weather conditions.

The flexible sleeving cuts with a scissor and the tight construction slides easily over any application.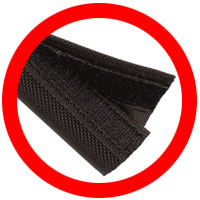 Harsh Environment Protection with Easy On, Easy Off Hook & Loop Closure

DURA WRAP (DW) is the answer to organizing and controlling wires, cables and hoses that are subjected to constant and extreme use. The flexible sleeve is made from tightly woven ballistic Nylon® with an aggressive, industrial strength hook and loop closure. DURA WRAP is used on wires to keep them together, on hoses and cables to prevent abrasion damage or on chains to keep them from ruining expensive finished surfaces.

DW provides greater abrasion resistance and water repellance than other Nylon® sleeves and is being tested for certification under the U.S. Dept. of Labor's MSHA.

DW is extremely flexible and easy to install over single or multiple hoses. In the event of a hose rupture, the high strength sleeving helps prevent high pressure fluid from becoming a danger to equipment operators and other personnel.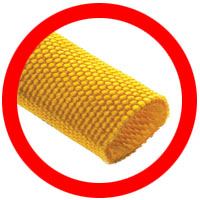 ISO 6945 Certified Hose Protection

Dura Flex Professional (DP) provides tough hose protection two ways. First, per the ISO 6945 spec, DP's unique .160 thick tubular weave design will withstand greater than 200,000 abrasion cycles without wearing through the fabric at any location.

Additionally, the exceptionally smooth inner wall provides easy installation and minimizes any internal abrasion problems.

The tightly woven Nylon® construction is extremely flexible and resists chemical and ultraviolet degradation.

Dura-Flex Professional cuts with a scissor, installs quickly and easily.

DP is perfect for industrial and construction applications where ISO certified hose protection is called for.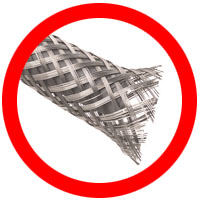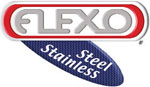 Braided Stainless Steel, Pre-Rounded For Installation Ease

Nothing protects hoses from wear and blowout quite like real Stainless Steel braid. It looks great in any application and is as strong as, well, steel. But, custom hoses overbraided with stainless steel are expensive, selections are often limited and production and delivery times can be an issue.

Now, you can take any stock or custom hose, slip a length of Flexo Stainless over it, hide the cut ends under your clamps and have the same look and protection as custom overbraided hoses at a fraction of the cost.

Flexo Stainless cuts with shears or serrated scissors (pg. 42), is pre-rounded for easy, slip on installation and is available in diameters and expansion ranges to accommodate virtually any common hose or wire application.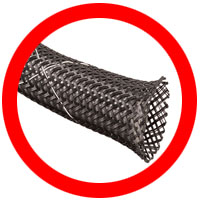 Flame Retardant, Economical Sleeving Solution

FLEXO PET FLAME RETARDANT (FR) sleeving is the perfect choice for electronic and high tech applications where flame retardance and durability are primary concerns. Ease of installation makes FR an efficient choice for long runs of wire or cable.

The addition of an organic combustion inhibitor to our standard polyethylene terepthalate gives FR an Underwriters Lab and CSA flame resistance rating of VW-1.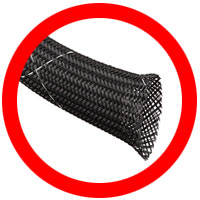 Scissor Cut for Field Installation, Will Not Support Combustion

CCF has all of the same qualities that make our standard CC so easy to cut and install, with the added advantage of a flame inhibitor to provide an extra level of safety in certain applications.

Under normal conditions, CCF will quickly self-extinguish and minimize flame spread and incidental damage to surrounding components.

The combination of flame retardance, ease of installation and nearly complete coverage makes CCF an ideal solution for many industrial and engineering applications.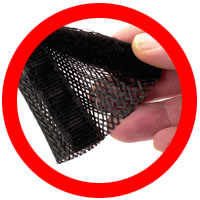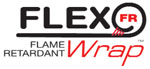 Easy On, Easy Off Access Will Not Support Combustion

Flame Retardant Flexo Wrap (FWF) provides the same hook and loop wire management flexibility as our standard Flexo Wrap along with the added safety feature of an organic flame inhibitor to provide
an additional level of security.


FWF is a safe, economical solution for a wide range of cable management applications where moderate levels of flame protection are needed.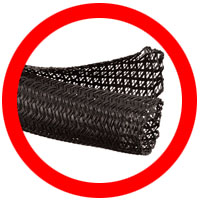 Flexible, Semi- Rigid Split Sleeving Will Not Support Combustion

Flame spread is a vital safety consideration in applications as diverse as homebuilt aircraft wiring and safely managing sound & lighting cables at clubs, concerts and theaters. To accommodate these issues, and to provide unequaled flexibility and access, we've developed this unique sleeving product.

Self-extinguishing F6F fully complies with UL standard VW-1. The addition of a flame inhibitor to our triaxially braided F6 split sleeving provides the perfect solution to a wide range of cable management needs.

Easy slip over installation, complete access along the entire run, economy, durability and UL certified flame retardance make F6F ideal when the goal is to manage wires and cables safely and effectively.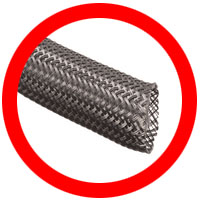 Ultra Lightweight, High- Temp Tolerant and Virtually Impervious To Chemical Degradation

RYTON® (RY) expandable sleeving is used in high temperature, flame resistant wire harnesses and cable assemblies. RY is an extremely lightweight sleeving, resistant to high temperatures and virtually impervious to solvents. RY is ideal for aerospace, telecom and military applications and meets many engineering goals including; chemical resistance, high temperature stability, zero moisture absorption, excellent dimensional stability and ultra-low wear.

RY is braided from 8 mil flame resistant PolyPhenylene Sulfide (PPS) monofilament fibers. PPS offers the broadest resistance to chemicals of any advanced engineering plastic. The material resists all known solvents below 392°F (200°C) and is inert to steam, strong bases, fuels and acids.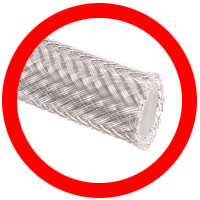 High Temp Stable, Abrasion Resistant, Low Outgassing

TEFLON® (TF) expandable sleeving is ideal in applications where flame, chemical
and very high temperature resistance are significant considerations.

The high temperature properties of TF make it the ideal choice for aerospace, military
and high-tech applications where thermal stability and low outgassing are
critical. TF is suitable for plenum applications.

TF is braided from 16 mil Teflon® perfluoroalkoxy (PFA) polymer monofilament.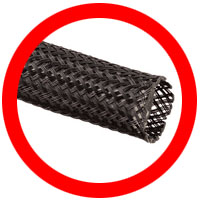 Conductive Carbon Infused Nylon For Static Protection and Shielding

CN is braided from 11 mil carbonized Nylon® monofilament yarn. CN is designed to protect sensitive wiring from abrasion while shielding it from high frequency noise. Many successful applications have utilized CN for maintaining clean video signals, interference filtering in pro sound environments, and RF filtering on power cables and outputs. CN is also useful in static sensitive environments.

CN utilizes a patented carbonization process which infuses our braided sleeving with a microscopic carbon compound that is virtually indistinguishable from the base material. The result is a strong, long lasting jacket that is ready for the most sensitive applications.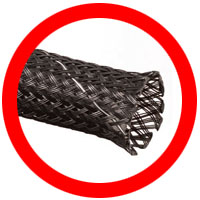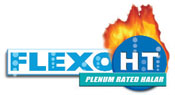 Very Low Outgassing, Self- Extinguishing UL-2024 Plenum Rated Sleeving

HALAR® (HT) self-extinguishing sleeving is used where flammability, high temperature endurance and low outgassing are primary concerns. HT is braided from 11 mil ethylene chlorotriflouroethylene (ECTFE) copolymer monofilament.

Because of its low flame spread and smoke generation properties, HT has received UL 2024 and NFPA 262 plenum listings, UL flame resistance rating of VW-1 and exceeds automotive industry requirements of FMVSS 302, as well as aviation industry requirements of FAR 25.

HT resists a wide range of corrosive chemicals and organic solvents, including strong acids, chlorine and aqueous caustics. HALAR® ECTFE also maintains useful properties on exposure to cobalt 60 radiation at doses up to 200 megarads.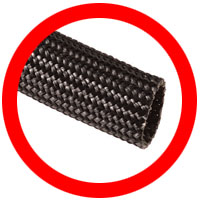 Resin Coated Fiberglass Protects to 1,2000

INSULTHERM (FG) is an extremely high temperature resistant sleeve commonly used as thermal protection for wires, cables and hoses that are subjected to continuous and extreme high temperature environments, such as engine manifolds and exhaust systems.

FG is braided from fiberglass yarns and coated with high temperature resins. FG is tough and durable, maintaining its tight structure under extreme vibration, abrasion, mechanical stress and temperature variations.

FG is available in a wide range of diameters. It installs easily over a variety of applications to either deflect or retain heat in environments up to 1,2000 F.









Reflective Aluminized Surface Bonded to Insulating Fiberglass in 3 Styles

ThermaShield creates a thermal buffer between your wires, hoses and cables and the high temperature environments surrounding them.

ThermaShield is engineered by laminating an aluminized metallic heat shield to a layer of strong, tightly braided fiberglass insulation. This system provides superior protection from radiant heat by reflecting it away from sensitive electronics, wiring and hoses.

The three styles of ThermaShield; Tube, Wrap and Flat provide a full range of solutions for virtually any application. The Wrap and Flat products use a very aggressive, high temperature adhesive that eliminates the need for high-temp mylar tape or other adhesive.

ThermaShield products will protect delicate components up to 1,2000 without delaminating, turning brittle or suffering adhesive failure.

They are ideal in any situation where protection from radiant heat is a primary concern.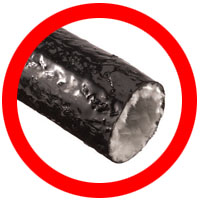 Silicone Jacketed Fiberglass Resists Heat, Abrasion & Moisture

Silicone jacketed fiberglass sleeving is the choice of professionals in racing and other industries where protection from constant temperatures approaching 500° F is mandatory.

FireFlex fiberglass/silicone sleeving (FI) is engineered to contain radiant exhaust and coolant heat within pipes and hoses and to protect expensive performance equipment and operators from thermal damage.

The thick, high temperature fiberglass sleeve is jacketed with a non-permeable, heavy silicone coating that is flexible enough to follow tight radius curves, resists all automotive chemicals and solvents, and provides a substantial level of abrasion and puncture protection.

FireFlex is completely non-conductive, will not melt, delaminate, become brittle or support combustion under normal conditions, and provides a professional level solution to thermal protection needs in any application.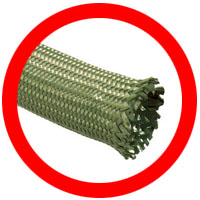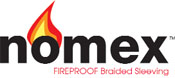 Soft, Pliable Flame Protection To 700° F.

Woven Nomex® clothing and protective gear has been used for years by race car drivers, municipal fire departments and oil rig personnel to provide that extra level of comfort and protection from the dangers that come with working in and around intense flame and heat. Our NX Nomex® sleeving will do the same for your wires, hoses and cables.

NX will protect your application in temperatures up to 700° F. It is unaffected by short term exposure to most acids, bases, solvents and common engineering chemicals. Despite the soft touch and smooth appearance associated with woven aramid fibers, NX is incredibly strong, with a tensile strength of 90,000 psi.

The densely braided sleeving provides full coverage and protection on even the most exposed applications.

NX sleeving cuts easily with regular scissors and the smooth surface eases installation even over long wire runs. The construction allows slight expansion to accommodate irregular surfaces and tight turns.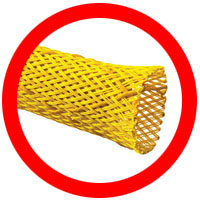 Increased Friction On Smooth Surfaces Minimizes Slipping & Accidents

FLEXO NON-SKID (NS) is a unique combination of our standard PET material braided together with a matching thread of a high-friction polymer.

NS is engineered primarily for wire and cable management in smooth floor, high traffic environments such as broadcast studios where someone might inadvertently step on a cable snake and slip.

As long as there's no excessive pressure on cables protected with NS, the entire snake glides easily and quietly along the floor. When local pressure is applied, such as someone stepping on the cable, the high friction material comes in contact with the floor and reduces the possibility of the cable sliding out from underfoot.

NS is substantially less "slippery" than our regular PET, yet provides the same level of flexibility and protection from cable wear and abrasion.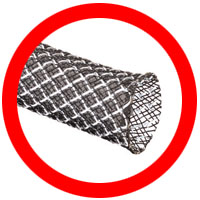 Reflects On-Axis Light 3600 Up To 675'

FLEXO REFLEX (RF) is our polyethylene terepthalate material braided together with highly reflective 3M Scotchlite® retroreflective monofilament. This unique combination provides a high level of wire and cable protection with the added advantage of extraordinary 360 degree, on-axis reflectivity.

RF is up to 1,500 times brighter than plain white under identical conditions and will provide high visibility safety on wires, hoses, cables, bicycle and motorcycle cables, stage wiring and virtually anything else up to 675' away. Reflective even under low light conditions. Patent pending.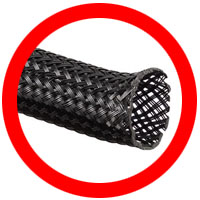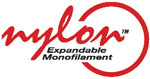 When The Spec Says Nylon And Only Nylon Will Do

NY is commonly used in the automotive industry to protect hoses and wire harnesses from excessive wear. NY's tough characteristics can increase hose life up to 300%. This lengthened life span is recognized in terms of reduced maintenance, a professional, attractive and durable appearance and greater customer satisfaction. With the additional protection that NY provides, it pays for itself throughout the life of your product.

NY is braided from .012" Nylon® 6-6 Polyamide monofilament. The tight braid construction covers fully and provides excellent surface abrasion resistance for assemblies exposed to excessive wear. The smooth Nylon® fibers and tight construction also reduce abrasion damage caused by hoses and harnesses rubbing against the inside wall of the sleeving.

NY resists all common automotive chemicals and UV damage. It won't rot or retain moisture.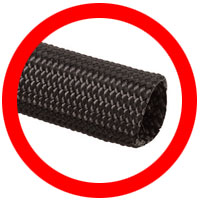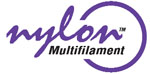 Full Coverage, Soft, Supple, Strong and Attractive

Under the hood or across the floor, NM is the perfect sleeving product for protecting
and improving the appearance of wires and cables. NM has been used in military
wire harness applications for many years.

NM's fabric-like softness and flexibility hide surprisingly tough specifications. The
high coverage sleeving meets or exceeds military specifications MIL-I-47203 and
MIL-S-47053. NM is highly resistant to abrasion, cuts, common automotive and
marine chemicals, UV damage and vibration. It will not rot or retain moisture.

The wide operating temperature range allows NM to protect delicate wiring in engine compartments and near exhaust systems. NM creates a unique and attractive retro look when installed on a/v cables.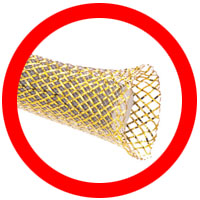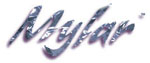 Lightweight, Economical Metallic Alternative

When your needs don't call for the durability or toughness of our CH or CX sleeving, Mylar (MY) is an ideal, economical alternative. MY is perfect for cosmetic applications and a wide variety of installation methods create dramatic results.

Audiophile cable builders often use MY under other sleeving types to create a unique, custom visual effect. Applications that combine MY with a more robust sleeving will withstand abrasion and general use and still have the custom, "Wow!" effect cable fabricators are looking for.

Braided from thin metallic Mylar strips along with transparent PET monofilament, MY creates a sparkling, highly reflective effect.

MY can be used instead of Mylar sheets to wrap and bundle cables.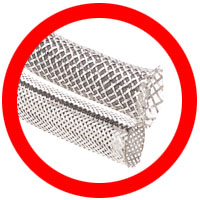 The Look of Stainless Steel Braid With An Upside

No installation hassles. No surface abrasion. No ridiculous expense. Just the look of polished braided steel.

These heavy duty metallized mylar sleeves are ideal for dressing up any application with the look of braided stainless steel. The standard CH has a more open look, with transparent PET braided together with the metallic strands to create a slight glimmer when light strikes it and to allow the color of the application to come through for a special effect.

Our new X-tra coverage product, Chrome XC, provides fuller coverage with no transparent elements in the braided construction and results in a smooth, continuous metallic shine on any application.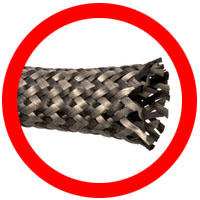 Carbon Fiber Sleeve For High Strength Tubular Structures

Fabricators know that resin coated carbon fiber structures are stronger and lighter than virtually any other construction types. Carbon fiber construction techniques are appearing in everything from state-of-the-art military and aerospace airframes to hockey sticks, fishing rods and model cars.

Our CF braided sleeving provides a strong, biaxial carbon fiber matrix for stiff, lightweight tubular structures up to 3" in diameter without seams or overlap. The tightly braided .050 thick flexible sleeving will form itself to accommodate elliptical or assymetrical profiles and provide the full coverage required for radial stability and torsional strength. Carbon fiber constructions can be cut, drilled, sanded and tooled with commonly available power or hand tools. They can be painted or left with the braid structure exposed.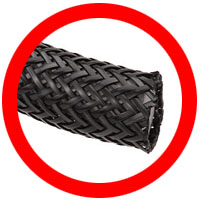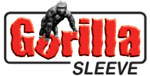 Innovative Flat Filament Braided For High Abrasion Resistance

The latest innovation in Techflex material design is the concept of using different shaped filaments to create strength, stiffness or a variety of other effects. Gorilla Sleeve utilizes flat filaments to achieve a thick abrasion guard for use on hoses. This type of sleeve has been tested against competitor's abrasion guards that mix materials in an effort to gain slight abrasion advantages. Gorilla Sleeve achieves better results without sacrificing great looks or flexibility. Contact your Account Representative for additional information on available styles of Gorilla braid for your application.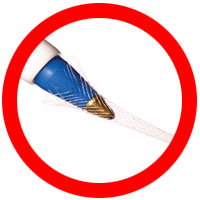 Ultra Thin, Ultra Light For Specialized Fiber Applications

Braided from ultra fine Nylon® monofilament fibers, Flexo Thin was created for applications where weight and wall thickness play a critical role. This material is strong enough to bundle multiple cables and fibers while naturally conforming to these type applications. Many of today's micro optics and precision electronic harnesses use Flexo Thin to flexibly and attractively manage and route tiny assemblies.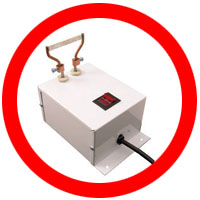 Bench Mount Hot Knife

Heavy duty components and heavy gauge 2 1/2" blade make this tool ideal for use in production environments. Lighted power switch. Heats to 6000 C in 30 seconds. Replaceable blades. 110 volt operation.

Many of our braided sleevings should be cut with a hot knife for cutting and sealing the ends to prevent fraying during the installation